NISC has been hosting the Member Information Conference (MIC) for more than half a century, bringing together NISC Members, staff, partners and friends for a dynamic week of learning, collaboration and a little fun.
Being a technology cooperative, NISC leadership and staff are always exploring ways to shift our thinking about how we can best tackle the challenges in the industries in which we serve. We are shifting to what's possible and showcasing our newest technologies at the MIC, which you can test drive at the NISC booth in the Partner Pavilion.
We hope to see you at this year's MIC!
Learning
The MIC features a variety of engaging and informative learning opportunities – from powerful general sessions to industry-focused roadmap sessions to concurrent sessions on best practices for utilizing NISC's solutions. What's even better is many of these sessions are led by NISC Members themselves, sharing tips and tricks to help you get the most value possible from NISC solutions.
Networking
At the MIC, attendees will not only have the opportunity to network with their peers across the country and beyond, but also with NISC staff and our dedicated partners. Have a question on a specific NISC solution? Stop by the Solutions Lab to chat with an NISC subject matter expert and receive one-on-one assistance! And don't miss the opportunity to browse through the Partner Pavilion and speak with our NISC partners.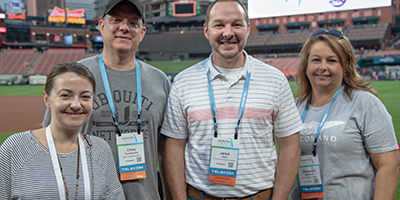 A Little Heart
Lastly, the MIC provides a wonderful opportunity to give back, build relationships and, of course, have some fun! From our annual Co-op Strong event for charity, to activities night where attendees can check out fun things to do around Nashville, to our MICfest celebration on Wednesday evening, the MIC is the perfect balance of learning, networking and a little heart.