While the focus of the Member Information Conference (MIC) is learning, an important part of the conference is networking with your peers and NISC staff. We have some great activities planned for the MIC that will let you experience the city of Louisville and provide an opportunity to get to know your fellow NISC Members and staff.
NOTE: All activities are walking tours and will depart outside the Kentucky International Convention Center.  Tours will operate rain or shine.
Deadline to register for tours is Tuesday, August 17.  Reservations are confirmed on a first-come, space available basis.  Confirmation will be sent via e-mail within three business days of receipt of tour order.  Tours are non-cancellable by attendee once booked.
Downtown Bourbon Trail
Tue., Sept. 14  |  5–7:30 p.m.
$54 per person
Get a taste of the iconic Bourbon Trail in the heart of downtown Louisville. This interactive walking tour will explore 1-2 of Louisville's most popular distilleries in their central facilities. Along with tours and tastings at the distilleries, this activity is paired with a premier cocktail experience, "raising the bar" for Bourbon tastings and at home mixology. You'll learn how the world's most famous Bourbon can be the perfect foundation for both classic and contemporary cocktails. This Bourbon packed tour will take you through the process from start to finish and provide a glimpse into one of Kentucky's most well-known distilleries. Required:  A valid government issued ID is required to attend this tour.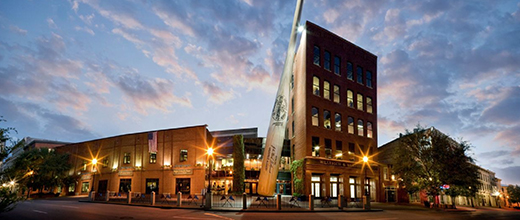 Louisville Slugger Museum
Tue., Sept. 14  |  5:30–7:30 p.m.
$76 per person
This home-run tour is sure to knock it out of the park! Guests will get exclusive access to the museum and go on a Factory Tour at the iconic Louisville Slugger Museum & Factory. A thrilling movie will set the stage before guests walk through the heart of the factory production line and check out never-before-seen steps in the bat-making process including the creation of mini bats. Connect with a genuine global icon on its hometown turf. Louisville Slugger Museum & Factory celebrates the extraordinary role Louisville Slugger baseball bats have played in the sport's past, present, and future. From the forest to the field, you'll follow the timber that's turned into hard hitting history.
Foodie Tour
Tue., Sept. 14  |  5:30–8 p.m.
$98 per person
The best way to immerse yourself in a new city is through their cuisine! Dine in the heart of historic downtown Louisville and taste the flavor of the south! This foodie tour features diverse and delicious culinary destinations within an easy walking distance. Taste your way through local favorite small bites featuring southern flair. Listen and learn with chefs and restaurant managers as they tell the history behind the ingredients. Also enjoy some local craft beer along the way. As you meander down Bourbon Street, envision an old horse-drawn carriage, hear the chug of the railroad, and learn about the history of Kentucky. Be transported to yesteryear in between bites as your trusty tour guide enchants you with tales untold. Required:  A valid government issued ID is required to attend this tour if you add the whiskey tasting.
Frazier Museum
Tue., Sept. 14  |  5:30–7:30 p.m.
$52 per person (Guided Tour);
$67 per person (Guided Tour + Whiskey)
Enjoy the Frazier Museum like never before with a completely private venue buyout with access to all of the exhibits via self-guided tours. The Frazier Museum documents and reinterprets stories from history using artifacts, exhibitions and live daily interpretations written and performed by a talented staff of teaching artists. With the opening of the Kentucky Bourbon Trail Welcome Center and the Spirit of Kentucky exhibit in 2018, the Frazier became the official starting point of the Kentucky Bourbon Trail. For added Kentucky flair, add a stop into the museum speakeasy for a Kentucky Bourbon cocktail or whiskey tasting. Required:  A valid government issued ID is required to attend this tour.