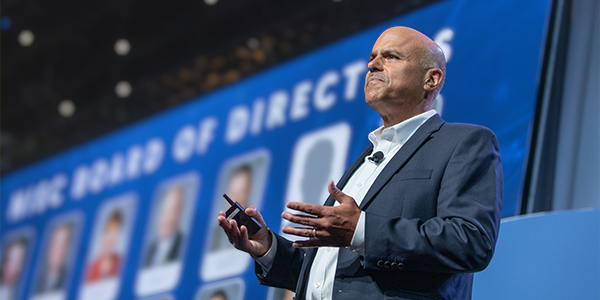 Dan Wilbanks
Opening General Session
Monday, September 26
The 2022 MIC Opening General Session will both inform and inspire you. Join NISC President and CEO Dan Wilbanks and guests to hear highlights from the past year, NISC's focus and strategy for the future, and homage to the people—the employees and Members—who make it all happen.
Dan's exciting product updates will include NISC's Multi-Channel Messaging, web and mobile app SmartHub, and AppSuite—and how they will further boost our Members' communication and member/customer engagement efforts.
Join Dan in the Opening General Session, and learn the collective power of shifting to what's possible.
Ben Nemtin
Closing General Session
Thursday, September 29
Ben Nemtin and his three childhood friends started THE BURIED LIFE in Victoria, British Columbia, in 2006. They made a list of 100 things to do before you die. For every list item they accomplished, they helped a stranger cross something off their bucket list. Since then, they have crossed off "Write a #1 New York Times Bestseller", "Make a TV Show (on MTV)", "Be Interviewed by Oprah" and have helped reunite a father and son after seventeen years and surprised a young girl with a much-needed bionic arm. Ben has crossed off 96 of 100 dreams and has helped countless people achieve their dreams. Ben's message of radical possibility will inspire and motivate you. Ben's bucket list quest has inspired millions to thrive personally and professionally.
 Join us for the 2022 MIC Closing Session as Ben shares his story!